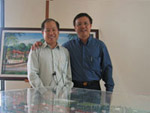 风水师傅-冯师傅


Austin Height, a part of Taman Mount Austin, is the most ideal place for investment and it would become leader in this area as it situated at the center of the auspicious Fengshui location. Taman Mount Austin is joined by five fengshui points which are Taman Setia Indah, Taman Gaya, Taman Desa Tebrau, Taman Pelangi Indah, and Taman Daya.
Taman Mount Austin, suburb of Johor Bahru, is a place belongs to Yang and supplement with Taman Johor Jaya which belongs to Yin, Yin and Yang supplement each other will bring the endless Qi to this area, is a good sign of Fengshui.

In the following twenty years, the commercial activities, education (Foon Yew (5) Primary School, Government Secondary School, Sunway College), and medication areas (Hospital Sultan Ismail) will bring Taman Mount Austin to be more prosperity. It would become the most developing area in the suburb of Johor Bahru.