Austin heights (Austin Heights Sdn Bhd)
The EDGE - City & Country, July 19, 2004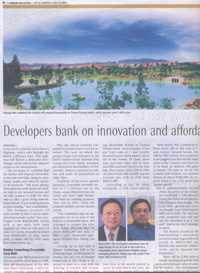 Austin Heights Sdn Bhd is one of the new breed of developers along the tebrau corridor. Group managing director Steve Chong points out that while the older neighbourhoods are now success stories, it had not always been smooth sailing for all developers.
He recalls that initially, developments like Taman Johor Jaya by Daiman Development did not do well because buyers appeared to favour the older neighbourhoods. It was only later that Taman Johor Jaya took off in a big way.
Chong also points to the case of Taman Mount Austin by developer Westmount, which entered the market in the early 1990s. The project later went under Pengurusan Danaharta Nasional Bhd`s portfolio and a special administrator was appointed. Parcels of land within the township were sold to other developers, including Mah Sing Properties, Kong Sun Group and Austin Heights Sdn Bhd.
The RM64 million Austin Heights Sdn Bhd paid for the 197.2acre tract translates to about RM7.45 psf, which is among the highest for land in that corridor. Chong has no regret. He is happy with the location – the site is 15km from the city centre – and the fact that is not required to build any low-cost homes. This is because the low-cost component has been sold to other developers. Based on an innovative design concept, he says, the project has been well received so far.
Chong has reason to be pleased. Some 400 Cluster homes and 100 link bungalows, launched progressively since early this year, are 90% sold to date.
"We did a thorough study on how we can create a safe environment and at the same time, offer more attractive properties to our buyers. That`s how we came up with the concept to do away with the back lanes and instead offer bigger land plots and built-up areas,"he says.
Chong concedes that product differentiation is necessary for the company to stay ahead of the competition that is fast building up in the area. "Too many developers are planning projects in the RM230,000 to RM300,000 price range and there could be a potential oversupply of such units, if the release are not properly timed. As such, we have to maintain a competitive adge," he maintains.
There are plans for another 1,000 housing units for the development, half of which will comprise apartments costing about RM200,000 onwards for a 1,500 sqft built-up aimed at the mediumhigh-end target market. Another 500 units will be made up of more cluster homes and link bungalows. In September, the developer expects to release 2 ˝ and 3-storey courtyard cluster homes, featuring built-up areas of about 3,000 onwards.
Chong is also proud of what he calls the educational-hub appeal of the project. He explaints that 28 acres within Austin Heights will be dedicated to the developmentof educational institutions. For now, a popular Chinese school is operating, with 1,300 students enrolled.
Sunway College is also coming up in the township. Work has started on a 10-acresite, with completion expected in 2006. The campus will be able to cater for up to 4,000 students.
Chong has this to add on the township: It is based on low-density theme, unlike some of the competition.
The EDGE - City & Country, July 19, 2004